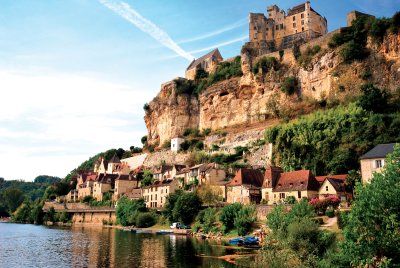 Day trip to Sarlat from Bordeaux by train
The capital of Périgord Noir is one of the most beautiful mediaeval villages in Europe. This gem of architecture is accessible to you in two and a half hours by train from your Hotel Regina Bordeaux, situated just in front of the train station.
Practical information on Bordeaux Sarlat by Train:
Travel time to Sarlat from Bordeaux : 2h30

Average cost : 28 €
Discover the Dordogne
Also called Sarlat-la-Canéda, this city rooted in the heart of its terroir offers a journey into the history and gastronomy of the Dordogne. Sarlat town centre is a pleasant 15 minute walk from the train station.
In terms of visits and activities you have the choice: the city holds the a record number of classified historical monuments with 65 monuments and protected buildings. Including the Lantern of the Dead, a twenty-first century building measuring nearly 10 meters high, the Saint-Marie church, whose ascent to its summit offers a panoramic view of the village and the Gisson Manor.
The Perigord gastronomy is also and absolut must. The Sarlat Market (open twice a week, Wednesday and Saturday morning) will allow you to savour regional products. A delectable dive in the paradise of truffles, cepes, foie gras, duck, pates and fine charcuteries.

Bordeaux - Sarlat train calling points: :
Bordeaux - Cenon - Libourne - Saint-Emilion - Castillon - Lamothe Montravel - Velines - St Antoine du Breuilh - Ste Foy La Grande - Gardonne - Lamonzie St Martin - Bergerac - Couze - Lalinde - Mauzac - Tremolat - Le Buisson - Siorac en Périgord - St Cyprien Dordogne - Sarlat