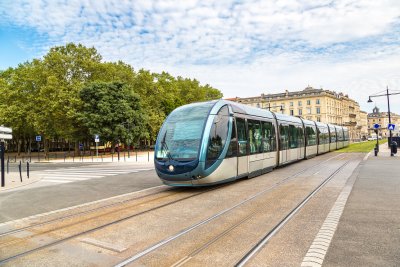 Bordeaux by tram : From the station to the Chartrons
Bordeaux Tramway, line C, travels right through Bordeaux, gliding past some of the best monuments and stopping at strategic points if you wish to explore the best of Bordeaux
Jump on the tram, line C, right outside the Regina Hotel
An excursion by Tram in Bordeaux, fun, cheap (around 1.60€ for an hour) modern, quiet and comfortable, the Bordeaux Tramway has only advantages. leave your luggage in your hotel room at the Regina, cross the road and get on the tram line C, right in front of Gare Saint-Jean and head towards the Bordeaux centre.
Within one stop (Sainte-Croix), you will reach the magnificent quays and discover the modernist architecture of the Conservatoire. The next stop (Saint-Michel) gives you access to the famous Flèche de St Michel, which rises to 114 meters. Then glide past the stunning arch shaped monuments that are Porte de Bourgogne and Porte Cailhau.
A few recommended stop to get off at
Stop at Place de la Bourse, to experience the Mirror d'Eau, and go for a wander up the rue Saint-Rémi. You can also choose to stop a little further, Place des Quinconces, to discover the neoclassical facade of the Grand Theater and join the bustling St. Catherine Street and its many shops.
Line C will take you to the Jardin Public, the most beautiful park in Bordeaux, and a stop further, the Place Paul Doumer stop will drop you at 100 m from Place des Chartrons and rue Notre Damme, two essential visits during your stay. a stay in Bordeaux