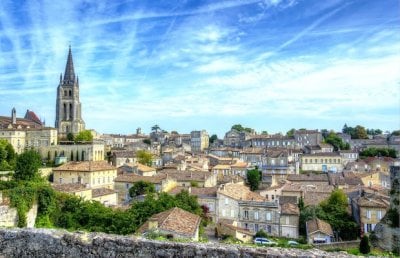 Day trip to Saint Emilion from Bordeaux by train
Choose Bordeaux as your pied-à-terre and enjoy the most amazing dat trips by train. Stay at the Hotel Regina right infront of the train station so you can just leave your bags in your room or at the reception desk and hop on the train.
Bordeaux Saint Emilion train information :
Travel time Bordeaux - Saint Emilion: 40 minutes
Average cost: € 9.50 for Saint Emilion
Relax quietly in the comfortable seats of the TER Aquitaine to discover Saint Emilion, a medieval city classified as World Heritage by UNESCO, which remains one of the most beautiful villages in France.
Stroll along the pebbeled streets and visit the must-see monuments: the Market Halls, the Ursuline Convent, the Cordeliers cloister, the Cardinal Palace, the Collegiate Church ...
Want an original visit? Discover the underground passage ways under the largest monolithic church in Europe.
Like Wine ? Every day between 2 and 4 wine properties open to the public to visit the vineyard and enjoy a wine tasting.
Bordeaux - Saint Emilion train calling points:
Bordeaux - Cenon - Libourne - Saint-Emilion