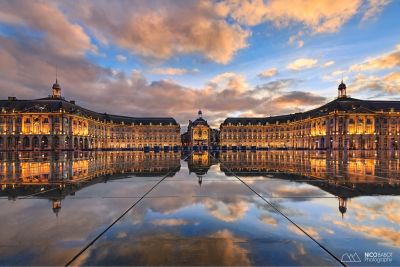 Place de La Bourse and its Water Mirror
Your hotel "Le Régina" is fifteen minutes by tram from Place de La Bourse. Opposite our establishment, take Tram C or D towards the city center; get off at Place de la Bourse, next five stops.

History fact : Square built between 1730 and 1755 by the King's architect, Ange-Jacques Gabriel.

During the Middle Ages, when the whole city of Bordeaux was surrounded by ramparts, Claude Boucher, the intendant of the generality of Bordeaux wanted to open the city to the river in order to modernize it. Thus was born the Place Royale, symbolism of prosperity of the city. However, it will have the sole purpose of serving as a setting for the equestrian statue of the King until the French Revolution. Indeed, a tree of "Liberty" will rise in 1789, to become Place de la Liberté.

It will change its name to Place Impériale under Napoleon, then again Place Royale during the restoration of the monarchy. It was in 1848 that the Place de la Bourse took its name, and its role was to welcome visitors arriving through the port of Bordeaux.

Twenty years later, we will find the current Fontaine des Trois Grâces. This monument represents Aglaé, Euphrosyne and Thalie, daughters of Zeus. Finally, in 2005/2006, during the major renovation of the Quays, the largest reflecting pool in the world was created by the fountain manager Max Llorca.

It is only 2 centimeters deep and creates a mesmerizing mirror effect that reflects the Place de la Bourse. The water is programmed in 3 sequences: mist, mirror and "swimming pool", over a period of 20 minutes.

Today, the reflecting pool is an essential place of relaxation for many Bordeaux residents but also for many passing tourists.