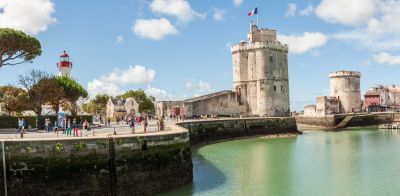 Day trip to La Rochelle from Bordeaux by train
La Rochelle and, but also Ile de Ré and Ile d'Oléron, can be reached by train from Bordeaux. The Hotel Regina being opposite the Bordeaux Saint Jean train station is therefore perfectly located to allow you to visit, among others, the large marina or the aquarium of La Rochelle.
Bordeaux La Rochelle train information:
Travel time from Bordeaux to La Rochelle: 2h15
Indicative cost: from 10 €
The train station in La Rochelle is only a few minutes from the city centre and the large marina. Pass under the Porte de la Grosse Horloge and get meander in its maze of alleys, which are teeming with small shops, bars and restaurants.

If you want to visit the magical islands of Ré and Oléron, nothing could be simpler: buses and shuttles await you at the foot of La Rochelle train station. In less than an hour and a half, they will take you to the end of the Ile de Ré and its famous Whale Lighthouse or to Saint Pierre d'Oléron.

Bordeaux - La Rochelle train calling points :
Bordeaux - St André de Cubzac - St Mariens St Yzan - Jonzac - Pons - Saintes - Rochefort - Chatelaillon - La Rochelle

+ on La Rochelle
Let yourself be seduced by the beautiful Saint-Louis Cathedral of La Rochelle, a stone's throw from the Henri II house, in the old town. While its exterior appearance is quite basic, the interior is worth a visit for its paintings, paintings and magnificent stained glass windows. Don't miss the Halles which host a covered market every morning. And treat yourself to a deep breath of fresh air in the heart of La Rochelle with the Charruyer Park, 40 hectares and 2 kilometers long.

Young and old alike will be amazed by the La Rochelle Aquarium, which is located opposite the Old Port, not far from the Saint-Nicolas tower. It is one of the most visited tourist sites in Poitou-Charentes and one of the largest aquariums in Europe.