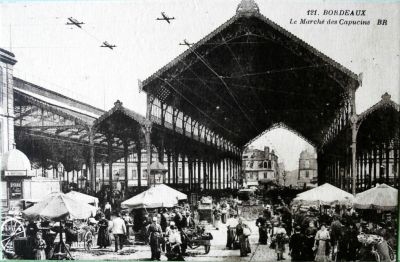 The Capucins food market,
The Capucins Covered Market has delighted visitors since 1857. Merchants and locals have been coming here for generations, and you can really feel that authentic and genuine vibe.
Your Hotel Régina Gare Saint-Jean is very near the Capucins Market in the Saint-Michel district.
Open every morning except Monday, and open until 2:30 p.m. on weekends, this historic market is a must see for lovers of good food. The 90 or so traders have plenty to offer from local sea food to Italian delicacies. You can eat at many of the stalls accompanied with a large glass of Bordeaux wine. The most popular dish is oysters accompanied by a glass of white wine.
Located about 900 meters from your Régina Hotel, the "Capus" can be reached in 10 – 15 minutes on foot or by tram in 5 mins.
After the Market stroll the streets of Saint Michel, this popular animated is full of things to see and do. Such as the flea markets and La Basilique Saint-Michel flanked by the Flèche Saint-Michel.