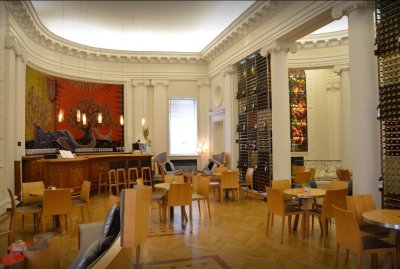 Urban Wine Trail in Bordeaux
We can think of no better way to combine oenology, gastronomy and a visit of Bordeaux than an Urbain Wine Tour
Discover the city of Bordeaux through its wine bars
The Bordeaux Tourist Office proposes organised group tours to the best wine bars where you can taste the local delicacies combined with the local world renowned wines and elsewhere.
If you prefer to make your own way around the wine bars of the city a great solution is to use the Cirkwi application (or you can print the map). This application lists over 25 top Bordeaux establishments for urban wine tasting. Each wine bar offers an exclusive "Urban Wine Trail" formula combining food and wine.
Visit the best Bordeaux wine bars from your hotel at Gare Saint-Jean
Your Regina hotel offers you easy access to the Urban Wine Trail. Take the Tram C from your hotel near the Gare de Bordeaux and stop at the Quinconces. Start with the CIVB wine bar and then on to the Flacon, Millésime, Wine Bar or La Ligne Rouge.