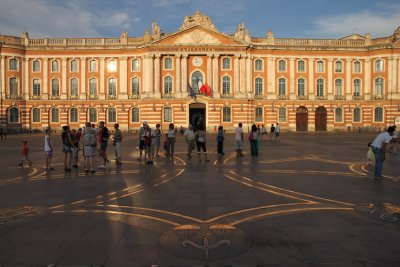 Visite Toulouse by train from Bordeaux
Treat yourself to a day of discovery in one of the most beautiful towns in Occitania, just 2 hours from your hotel at Gare Saint Jean de Bordeaux.
Practical information Bordeaux - Toulouse by train
The train journey between Bordeaux - Toulouse lasts 02h14 on average.
Every day 12 trains leave from Bordeaux to Toulouse, from 7:10 am to 9:02 pm.
The price of a ticket is around € 18.
There are many historic buildings in Toulouse: the Basilica of Saint-Sernin, which dates from the 11th century and is one of the largest Romanesque buildings in the West. But also Le Couvent des Jacobins, Jewel of southern Gothic art, founded in the 13th and 14th centuries by the Dominican order. Or the Hôtel d'Assézat, one of those sumptuous residences that flourished in the city during the Renaissance.
One of the most enjoyable things to do in Toulouse is to hang out. All the streets of the city center are magnificent and full of small shops, bars and restaurants with a thousand flavors. The Place du Capitole is an emblematic building where we like to meet.
The Garonne, crossing the city, also offers the most bucolic walks. Take advantage of the riverside, especially on the Henri-Martin promenade and the Place de la Daurade, to discover the most beautiful panoramas over the city with a view of the Pont Neuf, the Hôtel-Dieu Saint-Jacques or the dome of the Grave .
List of stations served:
Bordeaux - Beautiran - Cerons - Langon - La Reole - Marmande - Tonneins - Aiguillon Lot et Garonne - Port Ste Marie - Agen - Lamagistere - Valence d'Agen - Moissac - Castelsarrasin - Lavilledieu - Montauban Ville Bourbon - Castelneau Destrefonds - Toulouse Matabiau