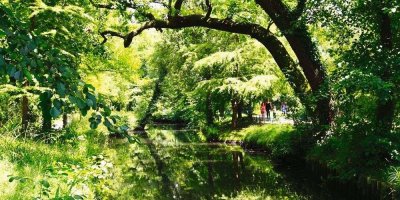 Stroll along the hidden streams (Cestas, Canéjan, Gradignan, Villenave d'Ornon, Bègles)
Discover one of the prettiest and original country walks of the Green Loop, in the Bordeaux metropolis: the one that takes you "along the Bourde River".
A surprising urban walk
River of the metropolis, L'eau Bourde crosses, from Cestas, the municipalities of Canéjan, Gradignan, Villenave d'Ornon and Bègles to then flow into the Garonne. By following it from Cestas, treat yourself to a beautiful walk or mountain bike ride. Bucolic and refreshing, the course "over the water bourde" is between 5 and 9 km and can be done quietly over a day.
On your way, you will discover the Moulin de Rouillac, the site of Cayac, the Moulin de Monjous, the Parc René Canivenc-Le Moulineau (animal park, aquarium and vivarium, mill, pond, merry-go-round), Parc Pelissey and Parc de the Tannery.
How to get to Cestas from your Regina Hotel Bordeaux train station?
To reach Cestas from your hotel at Bordeaux train station, you can:
Bus: take Liane 10 Bouliac-Gare Saint-Jean-Gradignan Beausoleil, Prieuré de Cayac stop
Tram: Take Tram C or D to Quinconces then Tram B, Unitec station, then TransGironde line 602 Unitec - Cestas:
Car: 29 min by taking the A63
© Photo credit: David Thierry