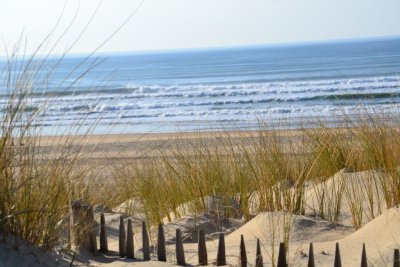 Day trip to the sandy beaches in the Médoc in Soulac
Take a breath of fresh air by jumping on a train, to discover the Ocean and the Pointe du Médoc. Soulac-sur-mer and Pointe de Grave are less than two hours by train from your hotel Gare Saint-Jean, ideally located to offer you one of these idyllic getaways.
Practical information on Bordeaux to Soulac by Train:
Travel time and indicative costs
Bordeaux - Soulac: 1h40 (18 €)
Bordeaux - Pointe de Grave (The Verdon): 1h50 (19 €)
If Médoc is a popular tourist destination for its wine heritage, one must not forget its relationship to the ocean. Soulac sur Mer is one of the most beautiful seaside resorts in the region, a closely guarded secret. Its old-fashioned charm, so much appreciated by connoisseurs, comes from its 1900th century buildings with its pink briquette villas with carved eaves.
You can enjoy shops all along the pedestrian street, the city centre with many restaurants and its basilica Notre-Dame-De-La-Fin-Des-Terres. Souloac offers seven kilometers of sandy beach dotted with the famous striped tents. And walks in the dunes will give you access to breathtaking​​​ wild landscapes.
Reaching the tip: La Pointe de Grave
A small tourist train connects Soulac-sur-Mer to the La Pointe of Grave. This cape marking the northern end of the Medoc offers an exceptional view of the mouth of the largest estuary in Europe. You will also see the contours of Royan, another famous seaside resort. But one of the main attractions of the place is the silhouette that is looming off the tip, at sea: the famous Cordouan lighthouse, oldest of France still active, that you can visit after a boat trip to departure from the port of Verdon.
Bordeaux - Soulac train calling points: :
Bordeaux - Pessac - Mérignac Arlac - Caudéran Mérignac - Bruges - Blanquefort - Parempuyre - Ludon - Macau - Margaux - Moulis Listrac - Pauillac - Lesparre - Soulac sur Mer - Le Verdon