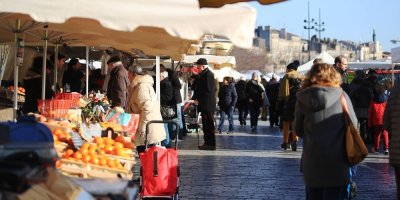 The Chartrons water front Market
There are many outdoor markets in Bordeaux. Including the Marché des Capucins, which is a few minutes walk from the Hotel Régina, opposite the Saint Jean train station. A few tram stops away, on the quays of Bordeaux, is another large market: that of Chartrons.

Your Regina hotel, a few minutes by tram from the Marché des Chartrons
To get to Les Chartrons from Gare Saint Jean and the Hotel Régina, nothing could be simpler. Take Tram C to Quinconces, get off at Place Paul Doumer and finish on foot in 10 minutes. Or take Tram D and, at Quinconces, change to B until the "Chartrons" stop.

Along the Garonne and offering a magnificent view of the Port de la Lune, the Chartrons Market takes place every Sunday morning, from 7 a.m. to 1 p.m. The hours are extended until 3 p.m. for everything related to catering and crafts.

Because the Marché des Chartrons is more than a traditional market. More than 70 stalls gather along the Quais des Chartrons to make you savor, taste and appreciate the specialties of Bordeaux and other products that cannot be found anywhere. elsewhere. The one that has long been called the "Marché Colbert" also hosts the traditional stalls of meats, spices, fruits and vegetables. But you can also have a little white wine there, accompanied by oysters, a shrimp cone or a hot dish to take away or eat on site.