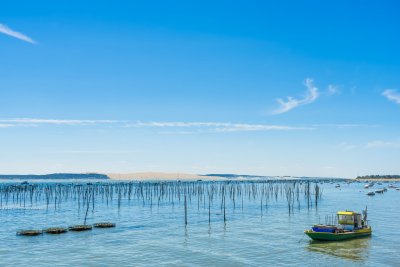 Day trip to Arcachon from Bordeaux by train
During your stay in Bordeaux, visit without needing a car, some of the most stunning places in the Gironde thanks to the train. Leave your luggage at the hotel Regina, cross the road and you are ready to embark on the train that will take you, for example, to the Bassin d'Arcachon.
Bordeaux Arcachon train information:
Travel time Bordeaux Arcachon: 50 minutes
Average cost: (from € 8.50 to € 11.50 depending on time of travel)
This modern and comfortable means of transport offers you an unforgettable escape. Easily discover the Bassin d'Arcachon, its oyster-farming ports, sandy beaches, pine forest and its peninsula.
Once in Arcachon why not catch a bus bus to the dune Pilat, the highest sand dune in Europe.
Fancy oysters at Cap Ferret or a tour of the island of birds? Boats leave Arcachon port every hour all day long. The walk from the station to the port is no more than 5 minutes.
The more athletic can even put their bikes on the train to enjoy some of the 220 kilometers of cycle paths that surround the Basin.
Bordeaux - Arcachon train calling points :
Bordeaux - Biganos - Facture - Le Teich - Gujan Mestras - La Hume - La Teste - Arcachon